Due to budget constraints and new linking features available within the library search system/catalog, Atkins library will cancel BrowZine, a service that provided direct linking to PDF articles through our search system and offered a platform for managing journal access for faculty, researchers, and students. This cancelation will affect anyone who has been using the BrowZine App and BrowZine Web to organize, access, and stay up-to-date on articles published in the library's journal subscriptions. It will also remove the "Download PDF" and "View Issue Contents" links from article records and "View Journal Content" links from journal records. Access to the service will cease on August 1, 2021. Prior to the suspension of access, if you have articles saved in the BrowZine application, be sure to download them into a citation management system or onto your preferred device. 
There will still be direct linking in the library search system to library articles and journals via the "Available Online" links: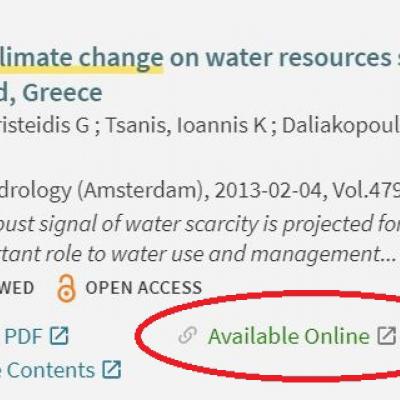 An alternative to keeping up with new issues of journals that you follow can be accomplished through publication alerts from the databases. Contact your subject librarian to learn how to create publication alerts for specific journals. 
Please let us know if you have any questions. Contact Liz Siler, Associate Dean for Collection Services at esiler3@uncc.edu with questions about the cancellation. Contact the Help Desk with questions about accessing our resources online.