The library offers multiple temporary and permanent exhibits throughout J. Murrey Atkins Library and the Architecture Library, including the atrium and exhibit wall on the first floor and the tenth floor through Special Collections and University Archives. In addition, the library maintains online exhibits. The mission of these exhibits is to enhance and enrich the community with themes that emphasize library holdings, university research interests and curriculum, as well as local cultural initiatives. 
Have an idea for an exhibit that meets this criteria? Submit your proposal here.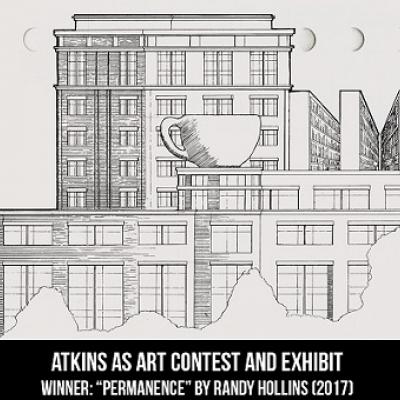 The library offers multiple exhibit spaces throughout J. Murrey Atkins Library with additional exhibits in the Hight Architecture Library. Current and past exhibits can be viewed here. 
Exhibits emphasize library collections, research interests of the UNC Charlotte community, university curriculum, and local cultural events and programming.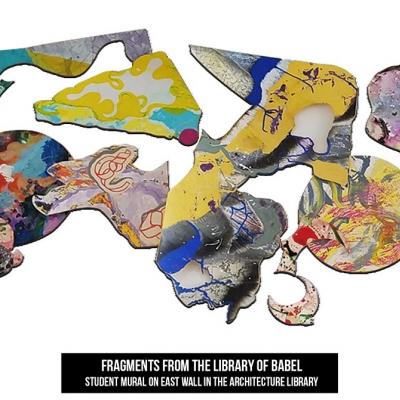 The student mural Fragments from the Library of Babel was created during Fall 2017 as part of the Mixed-Media/Print Media 3 classes taught by Maja Godlewska and Erik Waterkotte.
Working collaboratively, students incorporated digital photography, computer graphic manipulations, and large digital printouts with acrylic paint on PVC panel. The multi-piece mural was installed in Hight Architecture Library in Storrs Hall in March 2018.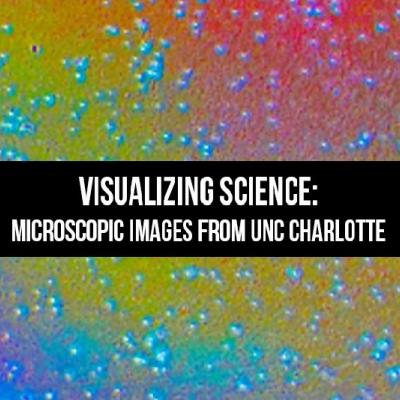 The library hosted the exhibit and competition, Visualizing Science: Microscopic Images from UNC Charlotte, in Fall 2015, which now continues as a digital exhibit.
The exhibit highlights the role of the University of North Carolina at Charlotte in scientific advancement. Faculty, staff, students, and alumni were invited to submit research images or "scientific art" produced with any type of microscope.