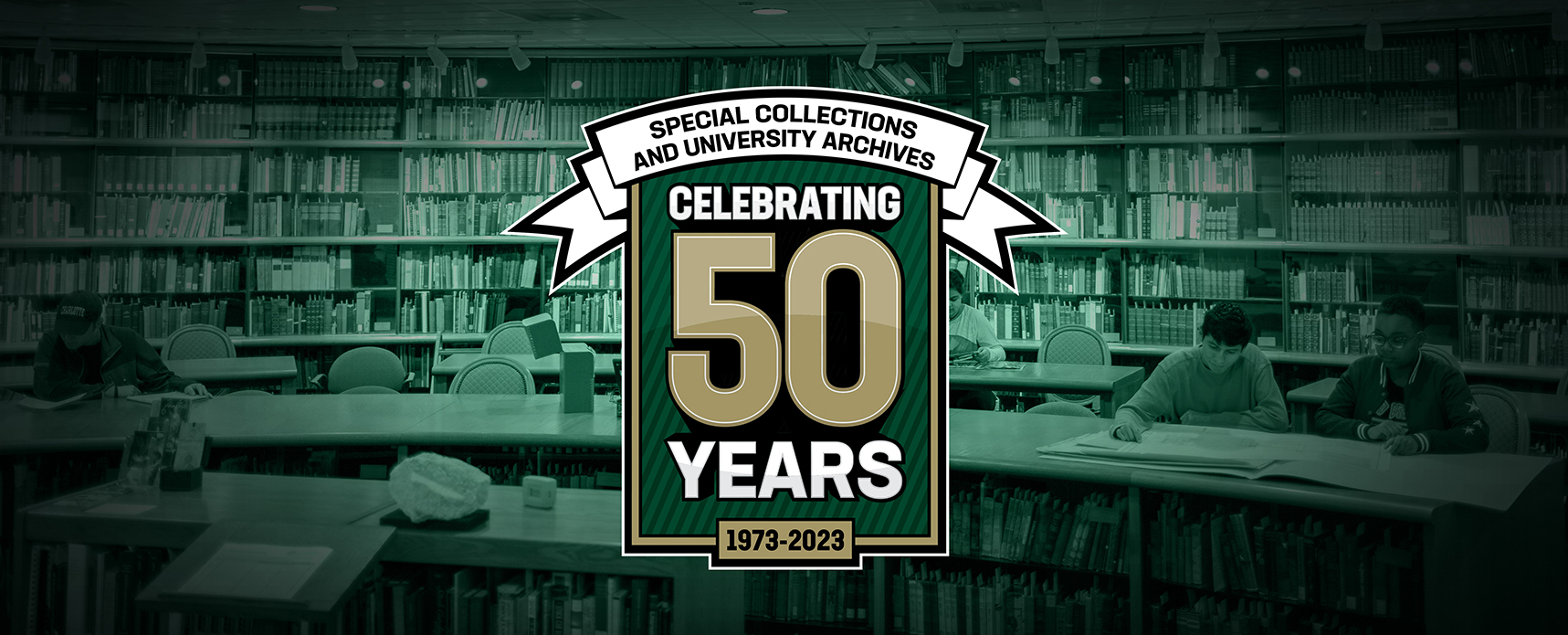 Special Collections and University Archives 50th Anniversary
In 2023, Special Collections & University Archives will celebrate its 50th anniversary and hold a series of exhibits and events in recognition of this milestone. Atkins Library began preserving the official records of the university in 1966 and collecting rare books and manuscripts a few years thereafter. But it was in 1973 that Robin Brabham was given the title of Special Collections Librarian, marking the advent of a new library unit.
Until his retirement in 2007, Brabham did the work of building an impressive collection of rare books, which today numbers more than 12,000. And he created an incredible resource for the study of our region by convincing some of Mecklenburg County's most interesting and notable individuals, families, and organizations to donate their papers and records. He also instituted a vibrant oral history program, and today we hold more than 1300 interviews. Over the past 15 years, we have continued Robin's work while expanding further into the digital realm and assuming the responsibility for managing U.S. and state government publications. 

Come celebrate with us! In the coming year, we will be holding events and mounting exhibits in recognition of our milestone. Save the date for the following events, to be held in the Dale Halton Reading Room:
February 8, 2022, 2:30 p.m.: Sonya Y. Ramsey,

Bertha Maxwell-Roddey: A Modern-Day Race Woman and the Power of Black Leadership

. Event co-sponsored with the Department of Africana Studies.

April 19, 2022, 4 p.m.:

Julian D. Mason Talks on Rare Books: The Princess Augusta Sophia Collection of English Drama

. Speakers will be Robin Brabham and Andrew Keener.
---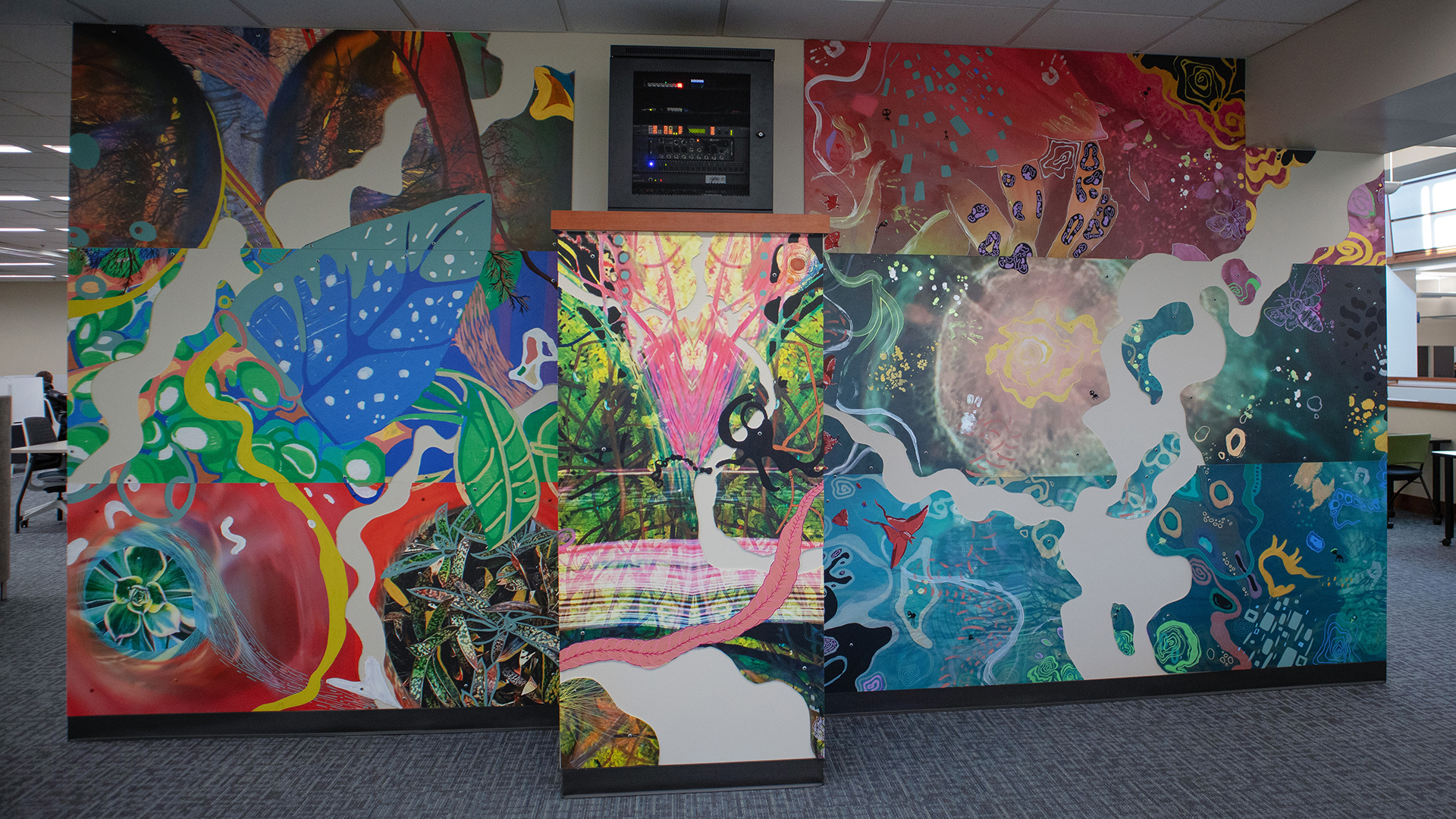 Student Artwork Reflects "Streams of Consciousness"


 
When the library moved most of our print collection to a nearby offsite storage facility and then renovated the open spaces on the 2nd and 3rd Floors with colorful walls and new furniture, it opened up a lot of wall space that seemed ideal to display student artwork to brighten the spaces even more. Atkins Arts and Architecture Librarian, Jenna Rinalducci, worked with painting professor Maja Godlewska  in the Department of Art and Art History and the students in her 2022 Mixed-Media class. The result? "Streams of Consciousness," a mural installation reflecting the students' study of art in nature.

The class read and discussed Donna Haraway's Staying with the Trouble, looked at Allora-Calzadilla projects (including their interpretation of Paul Chen's The Great Silence). They also watched fragments of Doug Aitken's Migration. As an ongoing homework, students walked in nature, observed, read poetry related to meditation in nature, photographed and sketched.
The students worked in teams to gather visual material in the UNC Charlotte botanical gardens and greenhouse, and manipulated it digitally. They experimented with paint and markers to create multiple sketches, drawings and paintings. Digital and analogue visual material was layered digitally, enlarged, and printed commercially on PVC boards. Teams of students then painted on boards with mural paints, hand cut boards to create organic pathways and organic shapes within the surfaces. Final design decisions were made onsite in Atkins, before and during installation. Visitors to the library's second floor can see the "Streams of Consciousness" murals on both ends of the new EZ Video Studios just outside of Area 49. 
---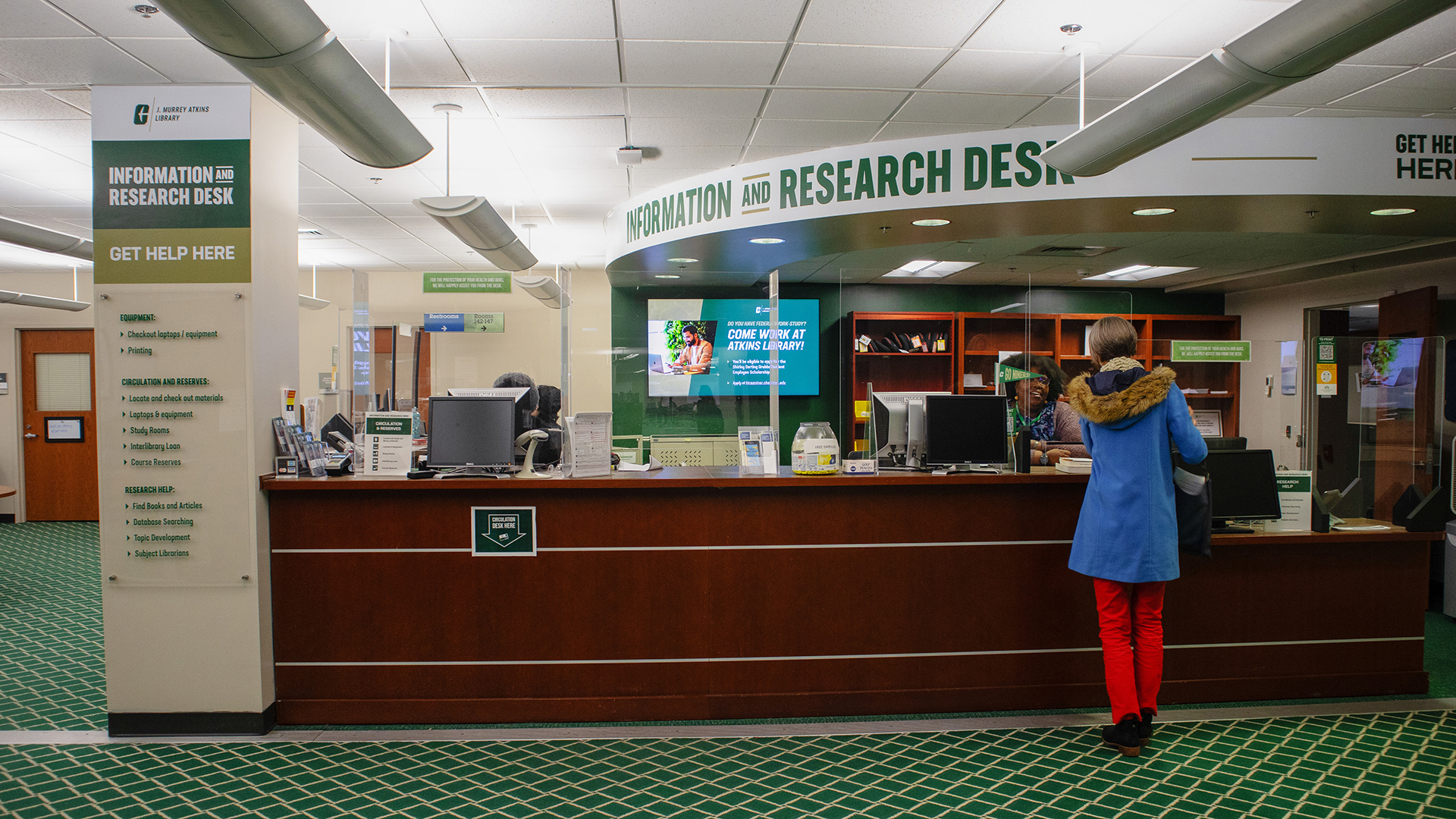 Atkins Entrance, Desk and Study Rooms get a Fresh, New Look


 
When you enter Atkins you'll notice new signage in the foyer welcoming patrons to the library, and a new look for the circulation desk, now called the Information and Research Desk to better describe the wide range of services provided there. The signage reflects UNC Charlotte's new branding -- the "All-In C" logo featuring the 49er pickaxe and crisp typography that nods toward our future-focused directive to Shape What's Next.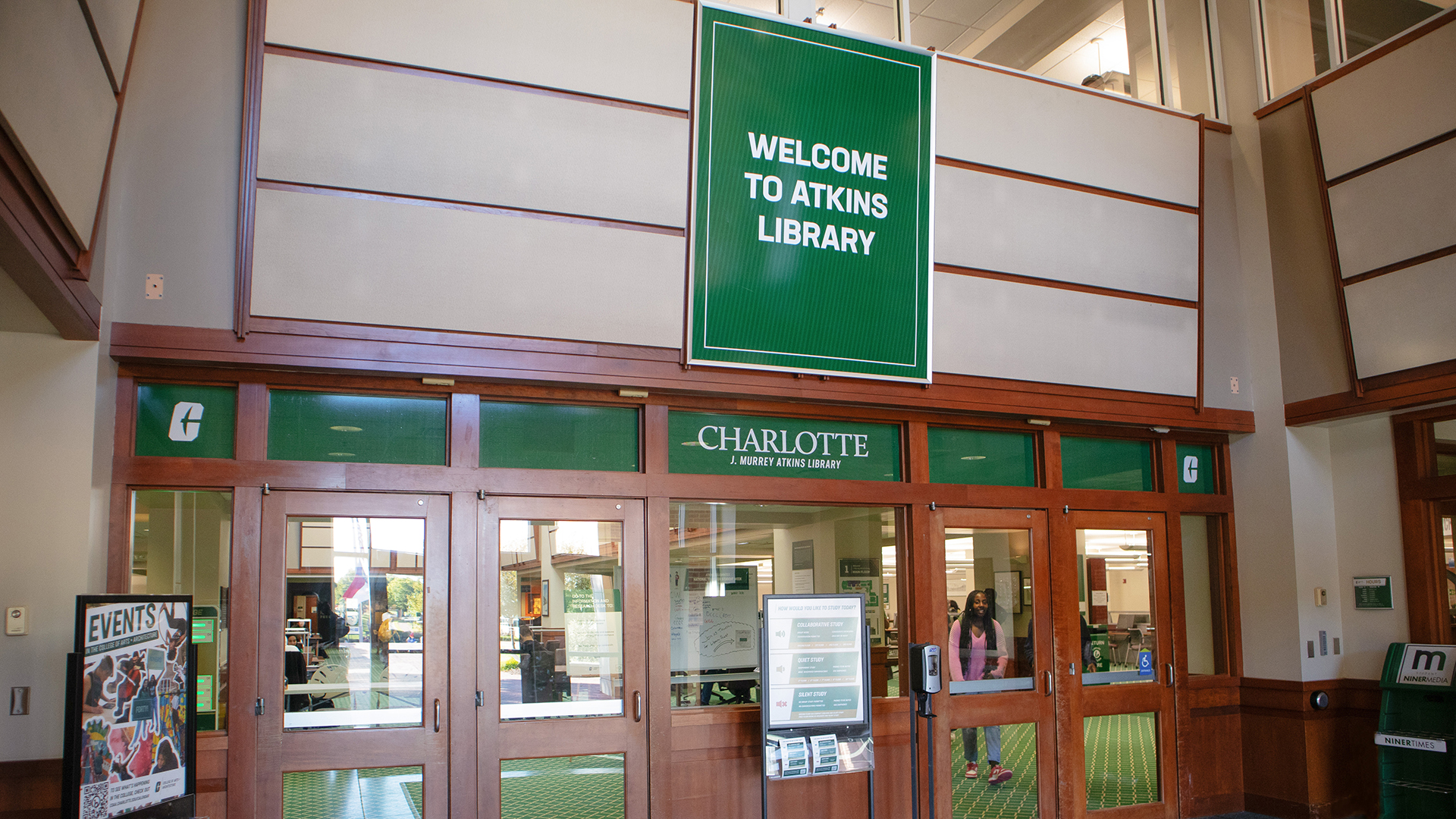 The Area 49 desk is next to be updated.  Along with the new signage at our entrance, we've also been busy giving the first-floor study rooms a needed refresh. All collaborative study rooms on this floor are now painted with writable walls and a bright accent wall in our All-In Charlotte green. 
In our Spring 2019 student survey, students requested that our group study rooms be renovated. As part of the Library's strategic plan to "continuously seek to increase/renovate collaboration and quiet space," five first-floor group study rooms were renovated in 2020 with new paint, furniture, and technology including screens with Air Media wireless presentation technology.  We hope to add those same improvements to the rest of the study rooms. 
When you make a gift to Atkins Library, you invest in the future success of the 30,000 students we serve as well as help us support the research efforts of our renowned faculty. One high-impact funding project for Atkins is the refurbishing of study rooms. The cost is $8,000 per room, which can be spread over three annual payments. Please support the Atkins Library by contributing to this or one of the other projects on Atkins Giving page. Your gift is deeply appreciated.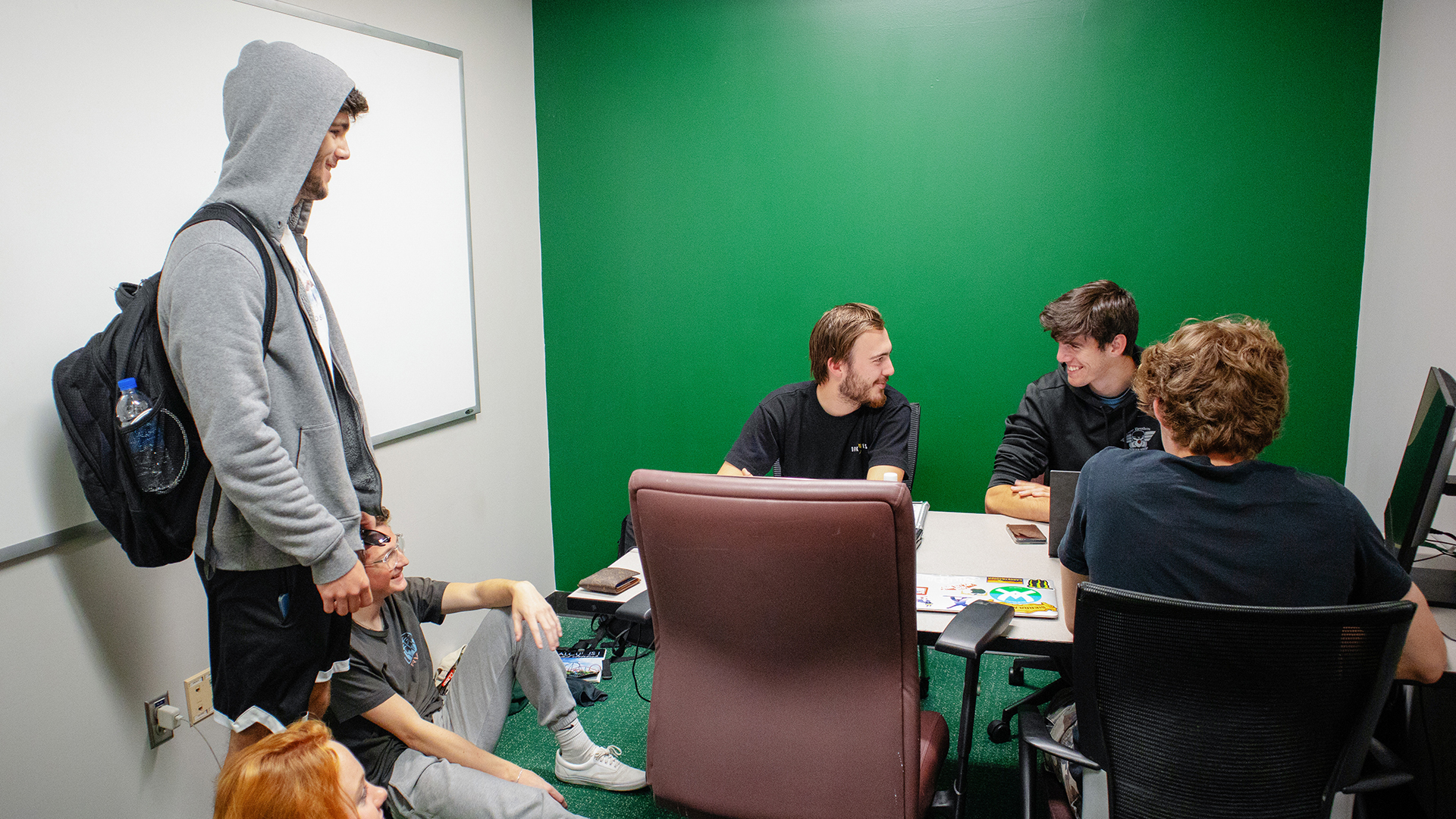 ---
Atkins Library Faculty Engagement Award Winners


 
Professor Cindy Fox, Belk College of Business, is the 2022-2023 Atkins Library Faculty Engagement Award winner. This award is presented annually to a UNC Charlotte faculty member who engaged in innovative or exceptional work with library collections, programs, and services. It recognizes outstanding faculty contributions to the library's mission, vision, and strategic initiatives. The award recipient receives $2,000 to be used for travel and professional development, and finalists receive $250 toward the same purpose.
| | |
| --- | --- |
| |  Fox has taken an active interest in incorporating the library into her courses, and was among the first course instructors to bring her students to Area 49 upon its opening in 2018. She has always sought ways to involve the library in her courses, but in the spring of 2021, this relationship deepened with the Food Insecurity Project. During the last four semesters, Cindy has collaborated with a variety of librarians across multiple departments creating the opportunity for them to teach 351 students in 32 in-person instruction sessions and many virtual sessions. She also embedded librarians into her Canvas courses, so that they could interact with students and access assignments and resources. |
The 2022 award finalists are Professor Cheryl Spainhour in the Department of Communication Studies, and Dr. Tina Shull in the Department of History. 
| | |
| --- | --- |
| | While Cheryl frequently integrates library instruction and resources into her courses, she also engages with Atkins to help promote the library's role in promoting media literacy by serving as a member of the Critical Media Literacy Collaborative. As an expert in the field of journalism and a working journalist herself, Cheryl brings an important and singular perspective to the group's work. In addition to generating strategies for evaluating online information, creating lesson plans, and developing instructional content, the group works to plan and promote a number of events each year centered around different aspects of media literacy and the importance of understanding the impact of misinformation on society.  |
| | |
| --- | --- |
| | Dr. Tina Schull has been actively engaged with the library since joining the university in fall 2020. She values library instruction and resources for her courses, and has engaged with the library through collaborations with Special Collections and Area 49. Tina has also contributed to other important initiatives of the library through her contributions to the first Digital Humanities Institute hosted by UNC Charlotte and coordinated by Atkins Librarians on behalf of the Digital Humanities Collaborative of North Carolina. She served on the proposal review committee with librarians and students and moderated one of the sessions for the institute. |