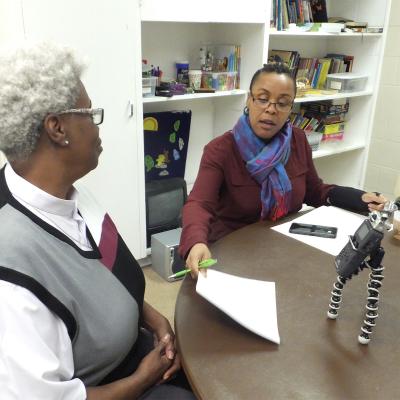 Our Oral History Collection includes more than 2,000 interviews that have been collected or recorded by the library since 1967, covering a wide variety of historical themes of local importance. These include:
UNC Charlotte history
Civil rights
Urban renewal
The LGBTQ community
Religion
Education
Motorsports
Native Carolinians
Jewish leaders
Other topics related to the Charlotte-Mecklenburg region
We also maintain an extensive collection of conversations and monologues recorded for the purposes of linguistic analysis. Many of our transcripts and recordings can be accessed through the website New South Voices. Oral history interviews that have been recently digitized or conducted are available in our online repository, Goldmine.
History of the Program
The oral history program began when local author and journalist Legette Blythe interviewed prominent North Carolinians using a reel-to-reel tape recorder in the late 1960s. The collection was expanded in 1979 by UNC Charlotte History professor Ed Perzel and students, who interviewed individuals across Mecklenburg County about their lives in the Charlotte area from the 1890's through World War II. Over the last twenty years the collection has grown to cover a wide range of topics related to local and regional history.
Today we serve as the repository for oral histories conducted by students in the university's academic departments including History, English, Africana Studies, and Geography, as well as oral histories created as a product of programming by the UNC Charlotte Urban Institute. We also partner with community institutions to collect and preserve their oral history recordings, most notably the Levine Museum of the New South, and we have recently supported community groups in their efforts to capture and preserve their oral histories.